Protective gloves and other personal protective equipment are subject to continuous quality control. The quality of this equipment and its classification into different protection classes is regulated by standards. The relevant standards are DIN EN ISO 374, DIN EN ISO 16523, DIN EN ISO 6529 and F-739. The concentration of the chemical in relation with time are continuously recorded. As soon as the concentration exceeds a predefined value as a function of time, this is called a breakthrough. From this point on, the PPE no longer protects the user from the chemical being tested. According to the standard, the breakthrough is defined with a permeation rate > 1 µg min-1 cm-2.
Advantages of the PERMOBIL
Advantages of the PERMOBIL
The PERMOBIL is a mobile permeation test rig. With the PERMOBIL, the chemical resistance of protective clothing, e.g. Gloves, determined. The PID is used as a detector and detects volatile organic compounds in particular.
Determination of chemical resistance according to standards: DIN EN ISO

374

, DIN EN ISO 16523, DIN EN ISO 6529 and F-739
LABC permeation cell developed and built in compliance with the standards DIN EN ISO

374

, DIN EN ISO 16523, DIN EN ISO 6529 and F-739
For PPE test at 23°C+-1 according to standard and further tests up to 35°C
Economical consumption of permeation chemicals, as LABC permeation cells are used in an upright position. Approx. 10ml of liquid is required per permeation measurement
Gaseous permeation chemicals can also be measured with a separate attachment
Our permeation products are used worldwide
LABC permeation cells and permeation testers are exclusively manufactured in Germany
On request, we develop and produce permeation test chambers according to customer requirements as special designs
The permeation test equipment required for each permeation chemical is listed in the normative annexes
LABC-Labortechnik has developed various products for permeation measurement in laboratories since 1988. Our offer includes products for measurements in the collection medium water as well as in the gas flow. As detectors we offer FPD, FID, PID electrodes, as well as pH electrodes, conductivity electrodes and redox electrodes.
Measuring devices in gas flow
Qumat®-Q401-EPC and the PERMOBIL mobile permeation test stand measure in gas flow with one detector. This means that the collection medium is a gas. Here you have the option of using air or nitrogen. The measurements in the gas flow are carried out in an open loop system.
Workplace with liquid collection medium
We have developed the Fluid-PermCell NW50-liquid for liquid collection media. The collection medium is predominantly deionized water. The permeation measurements take place in a closed loop system.
PERMOBIL permeation test rig
PERMOBIL permeation test rig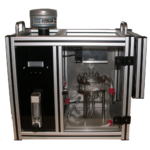 Mobile permeation test stand (PERMOBIL) is developed according to the standards EN374, EN 6529, EN16523-1, EN16523-2 using one of the PID (PID = photoionization detector) in cooperation with IFA (Institute for Occupational Safety). The PERMOBIL is used to test at 23°C (±1°C) films such as protective gloves or suits for their permeability to volatile organic compounds detectable with a PID detector. The PERMOBIL system consists of a permeation cell made of glass, which is described in the EN374, EN629, EN6529 and EN16523 standards. The liquid to be tested acts on one side of the foil to be tested. A defined air flow is applied to the opposite side. The outgoing air flow (gaseous collection medium, open circuit) is aspirated from an air balancing glass vessel with the PID handheld ALTAIR ® 5X and analyzed as a function of time.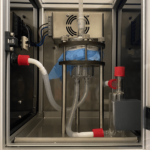 The results are documented in tabular form. A sharp increase in the PID signal shows after what time the film (e.g. protective glove) has reached the critical permeability. For quality monitoring purposes in production, a simplified evaluation can be performed, while prior calibration is necessary for a determination of the permeation rate in μg*cm-2* min-1 according to standards (EN 374, EN 6530, EN 16523-1, EN1 6523-2).
The scope of delivery of the mobile permeation test stand PERMOBIL with PID for testing the chemical permeation (according to EN 374, EN ISO 6529, EN16523-1, EN16523-2, ASTM and according to IFA (Institute for Occupational Safety and Health)) for substances which can be detected with a PID (e.g. organic solvents) contains all components necessary for the measurement.
Structure of the PERMOBIL
Structure of the PERMOBIL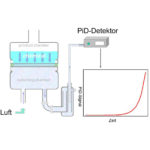 The measurement of chemical permeation depends on the ambient temperature and is to be carried out at a temperature of 23°C (±1°C) according to the standard. In order to ensure this requirement even at higher and lower ambient temperatures, the measuring cell in the PERMOBIL is housed in a visible, air-conditioned chamber. Temperature constancy is realized by a ventilation controlled combination of a heater (300 W) and a Peltier cooling (> 100 W).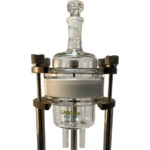 For sample preparation, a permeation cell made of glass according to EN374, EN6529 and EN16523 with its practical PTFE sample holder holds the test sample to be examined. The horizontally clamped specimen is exposed to the test substance from above on one side. The rear half-cell of the permeation measuring cell is constantly flushed with the collection medium air, which is then fed into an equalizing vessel. The collection medium air is generated from the ambient air. An integrated diaphragm pump with downstream rotameter for flow regulation draws the ambient air through a suitable combination multirange filter. The filters, which are actually designed for use with respirators, are screwed into a thread standardized according to DIN EN 148 and can be easily replaced. From the equalization vessel, a portion of the purge gas is analyzed for levels of volatile organic compounds using an external mobile photoionization detector with PID detector (from MSA Safety). The PERMOBIL is designed for the collection medium air.
Carrying out permeation measurements
Carrying out permeation measurements
For a permeation measurement according to EN374, EN6530, EN16523-1, EN16523-2 with the PERMOBIL permeation tester, a piece is cut out of the palm of a glove and clamped into the sample holder of the cell. 400 ml min-1 of "purge gas" (=collection medium air) is permanently passed through the lower half-cell of the NW50 permeation measuring cell. A flowmeter is used to check the purge gas flow at the outlet of the condensation chamber before each measurement. To achieve temperature constancy, the measuring cell is preconditioned in the PERMOBIL for at least 30 min at a temperature of 23 °C (+-1 °C). The test chemical is also tempered to the test temperature of 23°C (+-1°C). The liquid test chemical is applied to the test specimen from one side from above, with the half-cell being filled with approx. 10 ml of test chemical. The self-priming mobile PID detects the levels of volatile organic compounds as a function of time in the equalizing tank. The prerequisite for this is the volatility and detectability of the substances to be investigated with the PID detector system. A table for PID response factors can be found in the operating instructions.
Features Permeation Test Stand PERMOBIL
Features Permeation Test Stand PERMOBIL
| Detector | FID |
| --- | --- |
| | Volatile organic compounds |
| Item number | 250-0289047 |
| Permeation cell | 1x Permeation cell NW50 |
| Measurement lines | There is only one measuring line |
| Gas needed | only air, which is cleaned by a filter on the device. |
| Reference gas / calibration gas | Calibration can be performed by means of a calibration set. A set is not necessarily required for a measurement |
| Temperature range | Temperatures of 23 °C ±1 °C or 33 °C ±1 °C, as well as user-defined temperature ranges |
| Gas flow | separate flowmeter for flow measurement before starting the measurement |
| Software | Evaluation program that generates Excel-compatible data is included in the PID |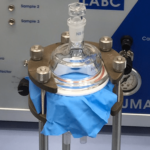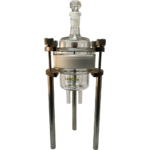 Designed for liquid or gaseous test chemicals and gaseous collection media. Permeation cell NW50 according to EN 16523-1 (replaces EN374-3) for testing PPE films such as protective gloves or protective clothing to measure the permeability of the test substances to the samples.
The permeation cell parts are held upright by a tripod without support. The PTFE holder for gloves and foils up to < 0.5 mm is placed between the glass parts.
Made by German glassblowers analogous to the standards.