Septa for GL hole screw caps
Septa for GL hole screw caps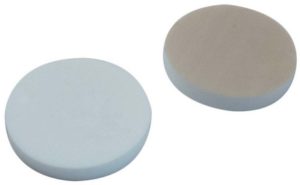 Our septum seals are characterized by their outstanding quality and reliability. Each gasket consists of a 12.5mm disc, made of natural color silicone and PTFE in beige color. The silicone has a hardness of 45° Shore A, which provides optimum flexibility and adaptability. The thickness of the seal is 3.2mm to ensure effective and reliable closure.
Our offer includes a packaging unit of 100 pieces of septum seals.
Thanks to their high-quality material composition and precise manufacturing, our septum seals offer excellent resistance to chemicals, solvents and temperature fluctuations. They thus ensure a secure seal and protect the contents of your GL14 screw caps from contamination and leakage.
Our septum seals are the perfect choice for applications in fields such as chemical analysis, pharmaceuticals, biotechnology, and many other industries where a reliable seal is of paramount importance.
We cordially invite you to benefit from the excellent quality and performance of our septum seals. If you have any further questions or would like to place an order, please do not hesitate to contact us.
Other septa include butyl red,PTFE gray and an aluminum foil septum seal.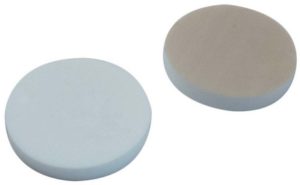 Silicone white/PTFE beige, 3.2mm:
| | | |
| --- | --- | --- |
| LABC No. | GL thread | PU |
| 120-0857130 | GL14 | 100 pcs. |
| 120-0893244 | GL18 | 100 pcs. |
| 120-0893251 | GL25 | 100 pcs. |
| 120-0893268 | GL32 | 100 pcs. |
| 120-0590143 | GL45 | 100 pcs. |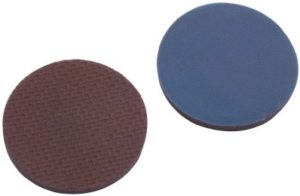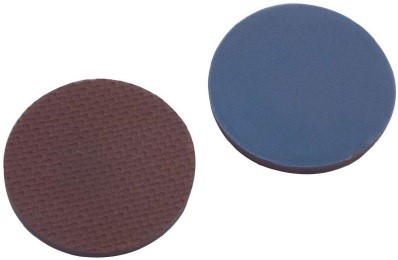 Butyl red/PTFE gray:
| | | | |
| --- | --- | --- | --- |
| LABC No. | GL thread | Strength | PU |
| 120-0893282 | GL14 | 1,6mm | 100 pcs. |
| 120-0913386 | GL18 | 1,6mm | 100 pcs. |
| 120-0893305 | GL25 | 2,5mm | 100 pcs. |
| 120-0893312 | GL32 | 2,5mm | 100 pcs. |
| 120-0893336 | GL45 | 2,5mm | 100 pcs. |