ND20 aluminium crimp cap with 10mm hole
In laboratory technology, high-quality sample vials and closures are of great importance. LABC-Labortechnik has developed an innovative solution for injection vials and headspace vials with ND20 crimp head. With magnetic ND20 aluminium crimp caps, which have a 10mm hole, two adjacent syringe needles can now be pierced at the same time. These aluminium caps allow easy and effort-saving closing compared to conventional steel caps.
Magnetic ND20 aluminium crimp caps with 10mm hole for injection and headspace vials
Magnetic ND20 aluminium crimp caps with 10mm hole for injection and headspace vials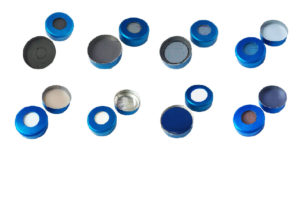 Until now, magnetic crimp caps made of steel or bimetal for injection vials with ND20 crimp rim were only available with hole sizes of 5 mm or 8 mm. However, sampling in the bypass of a control system with an ND20 sample port requires simultaneous insertion of two adjacent syringe needles, which requires a hole size of 10 mm. Die innovative Lösung von LABC-Labortechnik aus Hennef besteht darin, eine 20 mm Aluminium Bördelkappe mit zentralem 10 mm Loch mit einem magnetischen Ring zu versehen, der durch die eingelegte Dichtscheibe fixiert wird. As an added benefit, these magnetic aluminium caps allow for much easier and more effort-saving use compared to conventional steel caps with 8 mm hole.
Item No.
Material
Color
Thickness
120-0404624
BK without PTFE
grey
3,1 mm
120-0404631
Shaped washer
Butyl/ PTFE
gray/grey
3.1 mm
120-0396769
butyl/PTFE
grey/grey
3,0 mm
120-0404792
Silcon/PTFE
blue/white
3,1 mm
120-0404808
silicone/PTFE
white/beige
3,1 mm
120-0404822
silicone/aluminum
white/silver
3,1 mm
120-0404839
Silicone/PTFE
0,5mm
white/blue
1,5 mm
120-0404846
Punching disc
BK / PTFE
reddish brown/
light gray
2.4 mm
PU = 100 piece
Sealing discs for sample vials with a crimped rim are subjected to thermal and chemical stress to a greater or lesser extent, in addition to the mechanical stress caused by sealing with crimping pliers and piercing with hypodermic needles. Furthermore, the materials used should not release any detectable substances even with very sensitive analytical methods. The idea of LABC-Labortechnik was to insert additional films into flare and screw cap closures in addition to the laminated elastomer septa, which would enable optimisation of the tightness, temperature and chemical resistance.
Item No.
Material
Color
Thickness
120-0403979
PTFE/silicone/PTFE
virginal/white/beige
3.2 mm
120-0403986
aluminum/silicone/aluminum
silver/white/silver
3.0 mm
120-0404600
aluminum/silicone/PTFE
silver/white/blue
1,5 mm
120-0404617
PTFE/Silcon/PTFE
white/white/blue
1,5 mm
120-0404853
Punching disc BK/
PTFE/Alu
reddish brown/light gray/
silver
2.5 mm
PU = 100 piece