An improved solution for vial closures in trace analysis
ZeroSept®AIR-Septum offers improved vial closures for trace analysis. Unlike thin foil septa, it has comparable tightness, requires no tool adjustment, prevents the seals from falling out and elastomer components from penetrating the sample. It allows reproducible multiple injections and fits into common GC/HPLC systems with magnetic autosampler.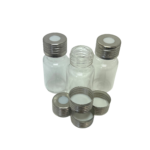 To circumvent these problems, vial closures that use thinner analytically pure films (e.g. fluoropolymers, aluminium, polyethylene) instead of laminated elastomer septa are preferred in trace analysis. However, these thin foil septa have some disadvantages. These closures have no or very little resealing properties, are susceptible to falling out during transport and aluminium closures in particular are very tight, so that there is a risk of damage to the microlitre syringe.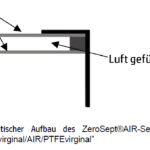 The ZeroSept®AIR septum offers an alternative solution. It consists of a special fluoropolymer perforated disc bonded with thin PTFE films, creating an air-filled cavity. Compared to thin film septa, the ZeroSept®AIR septum has the following advantages:
It has a comparable thickness to conventional elastomer septa, which means that no adjustments to the flanging tool are required.
Due to the tight connection of the PTFE foils with the perforated disc, the ZeroSept®AIR septum remains securely in the closures and will not fall out during transport.
Piercing with the cannula does not cause the foil or particles from it to be pressed into the specimen.
The air-filled cavity and the two pierced PTFE films reduce solvent evaporation and concentration change of the sample solution. This allows reproducible multiple injections from the same sample within a given time period.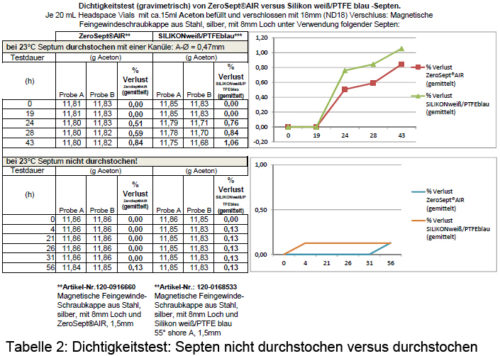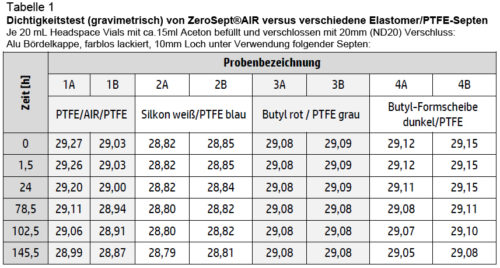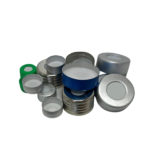 The ZeroSept®AIR septum offers comparable tightness to conventional septa and is suitable for multiple injections. It eliminates the aforementioned disadvantages of thin film septa and avoids contamination of the sample by elastomer components. These properties make it particularly interesting for trace analysis. The ZeroSept®AIR septum can be used in combination with standard vials in common GC/HPLC systems and can also be moved with an autosampler when available in the magnetic version.
More products and information