Screw-threaded cylinder jars are ideal for simulating the migration of food contact materials that are fully immersed. It is supplied with a closed plastic screw cap containing a PTFE-lined gasket. This vial not only provides a safe storage solution for samples, but also allows for the precise recreation of migration conditions.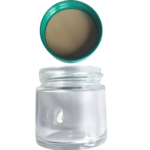 The cylindrical glass bottles with screw cap offer a generous opening, thanks to their cylindrical shape. They are particularly suitable for migration simulation of molded objects that are fully in contact with food. The vials comply with the regulations of EC 1935/2004 and EU 10/2011.
These vials are temperature resistant and can withstand temperatures from -20 °C to 80 °C. In addition, both the cylindrical glass bottle and the screw cap are easy to clean, even in the dishwasher.
Please note that the cylindrical glass bottles are supplied only in complete packaging units (VE) and no individual sale is possible. The screw caps are supplied separately from the vials and are not already screwed on. To ensure that the vials are hygienic, they are shrink-wrapped in PE film, while the caps are packed in separate PE bags.
Before using the vials for migration simulations, we recommend rinsing both the vials and the screw caps thoroughly. This ensures that all possible contaminants are removed and a clean starting point is provided for performing migration simulations.
Clear glass cylinder glasses
Clear glass cylinder glasses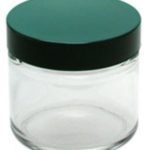 | Item no.: | Volume: | Dimensions: | Ø: | PU: |
| --- | --- | --- | --- | --- |
| 120-0457101 | 30 ml | 43x43mm | 31,5 mm | 48 pcs. |
| 120-0457125 | 60 ml | 55x49mm | 42 mm | 24 pcs. |
| 120-0457071 | 120 ml | 60x69mm | 45,5 mm | 24 pcs. |
| 120-0645300 | 180 ml | 65x79mm | 53,5 mm | 24 pcs. |
| 120-0457095 | 240 ml | 73x89mm | 59 mm | 24 pcs. |
| 120-0457118 | 480 ml | 91x96mm | 74,5 mm | 12 pcs. |
| 120-0457132 | 960 ml | 95x170mm | 75,5 mm | 12 pcs. |
Amber glass cylinder glasses
Amber glass cylinder glasses