Sieg-Mi-Flex stainless steel migration cells are now available with individual serial numbers and a factory certificate for individual proof of dimensional accuracy.
Sieg-Mi-Flex cells have been used for migration simulations worldwide for many years. With this system, simulations can be performed in the temperature range from -15°C to 180°C as well as at high pressure up to 9 bar. Taste tests, simulations with light or the influence of gases on migration can be performed reproducibly with the Sieg-Mi-Flex system.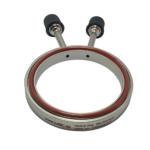 Detection limits are decreasing, thus increasing the requirements for migration cells. At the same time, the requirements for documentation on the part of the certification bodies are constantly increasing. Stainless steel migration cells of LABC-Labortechnik have always been produced in highest quality according to EN DIN ISO 2768-1. From now on, all stainless steel center rings and fixing plates will be marked with individual batch numbers. An individual factory certificate is supplied for each product on request.
With the update of the Sieg-Mi-Flex system we create the possibility to assign the migration simulation to a central ring and a fixation plate. In this way, we increase the possibilities for traceability. This is unique worldwide for migration cells and offers our customers important added value.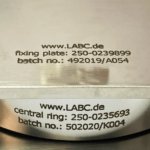 The stainless steel migration cells from the Sieg-Mi-Flex system analogous to EN1186 are designed to be pressure-resistant up to 9 bar, at a maximum temperature of 180°C. The center rings are available in different diameters from DN30 with 0.05 dm² up to DN120 with 2.0 dm² analyzable area.
Sieg-Mi-Flex stainless steel migration cells are versatile. In addition to plastic or paper packaging, the cells are suitable for a variety of other migration analysis applications. For example, tablecloths or metal plates can be easily inserted into the system.
More products and information